Work smarter, not harder with our Intelligence 💡
Our job is to make your job that little bit easier, and we believe our redesigned Intelligence tab will do just that.
Work smarter, not harder…
We hope you've loved using our new KPI module that we launched recently and now we wanted to share with you our completely redesigned Intelligence page with new tabs for KPIs, Grades, Categories & Tabs to make it even easier to view your data.
The new screens let you analyse your KPI templates to help you report back to your central team and identify areas where your schools may benefit from extra support and resources. You can see the spread of responses for each of the KPIs, all on the same screen – check out the snazzy new screenshot below… And the best bit is, you can export these handy visuals to use in your Trust reports!
Pssst, you can still look at this for any static or dynamic group that you like, toggle between percentages and count, as well as being able to export your data as a spreadsheet, pdf or an image.
Looking for a breakdown of your schools? Switch over to 'School View' and you can see the spread of responses filtered by schools.
That's not all! You can now apply filters to your KPIs to find specific groups of schools. The example below highlights any schools where the workload was graded an 'A' and shows the rest of the school's KPIs for your convenience.
---
Grades, Categories & Tags have also been updated – we've given each of these areas their own tab which will help you understand and analyse your data in a similar, beautiful way.
We're also starting to introduce trends for these tabs too, keep an eye out for more on this soon!
The ability to quickly add any schools you have filtered on into their own group has also been added in this release.
Super handy if you then want to export contacts or send communications through the news tool to a pinpointed group of schools with specific strengths or issues.
Contacts
We've introduced a couple of nice features into our Contacts tab too…
Are there staff in your Perspective Users tab that you could really do with being added in your Observatory contacts? We've added a little button at the end of each row to enable you to quickly 'Create Contact' saving you having to manually type them in!
You also now have the ability to export contacts based on specific filters including roles and schools. For example, if you'd like to collate all of the Assessment Leads in specific schools or groups, well now you can. Once you have chosen your criteria you can "copy" them for use in another application or export the list as a CSV file. This will be really helpful when you need an up to date mailing list to send out communications using your own tools.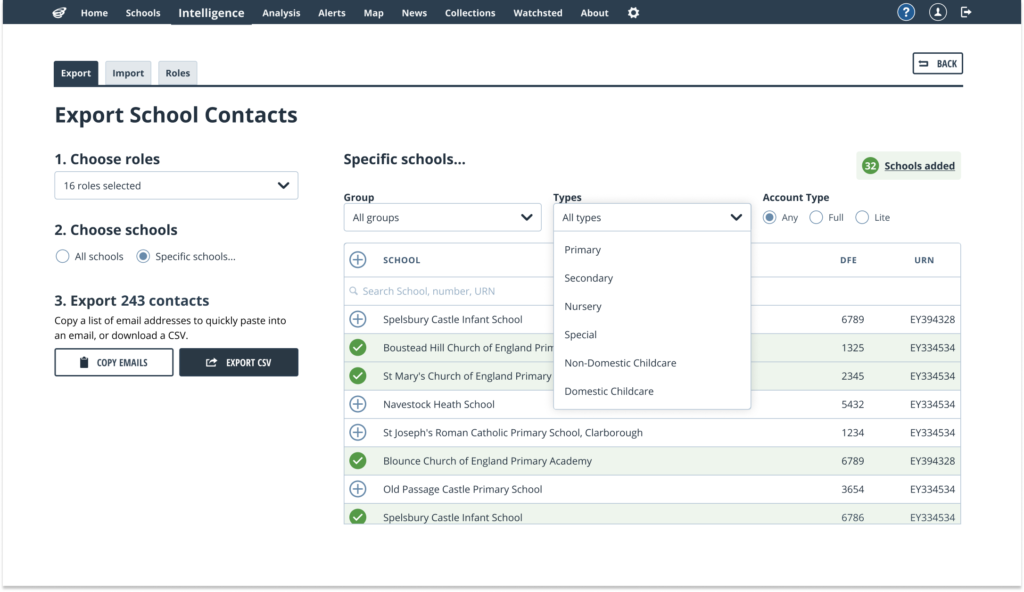 What's next?
We always appreciate your honest feedback with our new release and would love to hear from you as we continue to shape our future developments too.
But for now, it's over to you… Login now and see the new Intelligence tab for yourself.
Want to hear more?
Any burning questions? Just give us bell or drop us an email.