Perspective Updates and Team SEF
Whewwww! We've been busy.
Now that everyone's got their heads round the new EIF, we've made some important and helpful changes to Perspective to make your lives just that little bit easier.
Let's take a look:
TEAM SEF
Ta-dah! Everyone now has access to our team evaluation tool.
We know curriculum leaders are feeling the pressure from the new EIF, so this is here to help.
It gives teams lots of support and guidance, as well as team-specific bite-sized questions to give the process a lot more clarity.
Once they're done, teams simply submit their evaluations and they automatically appear in our new…
---
TEAM REVIEW ANALYSIS (SLT)
Hallelujah. This is going to be a real time saver.
Rather than drilling down into each individual team – we've made an easy way for SLT members to see how all teams are doing at once.
Pssst. Bonus SEF stuff.
We've also reduced faffing by making it easier than ever to switch between teams if you're a multiple-team member.

We've changed 'SEF History' to 'Archive' because well, that was a little confusing for the History staff.

We've simplified permissions, which should make it simple for everyone to complete Team Reviews. Glorious.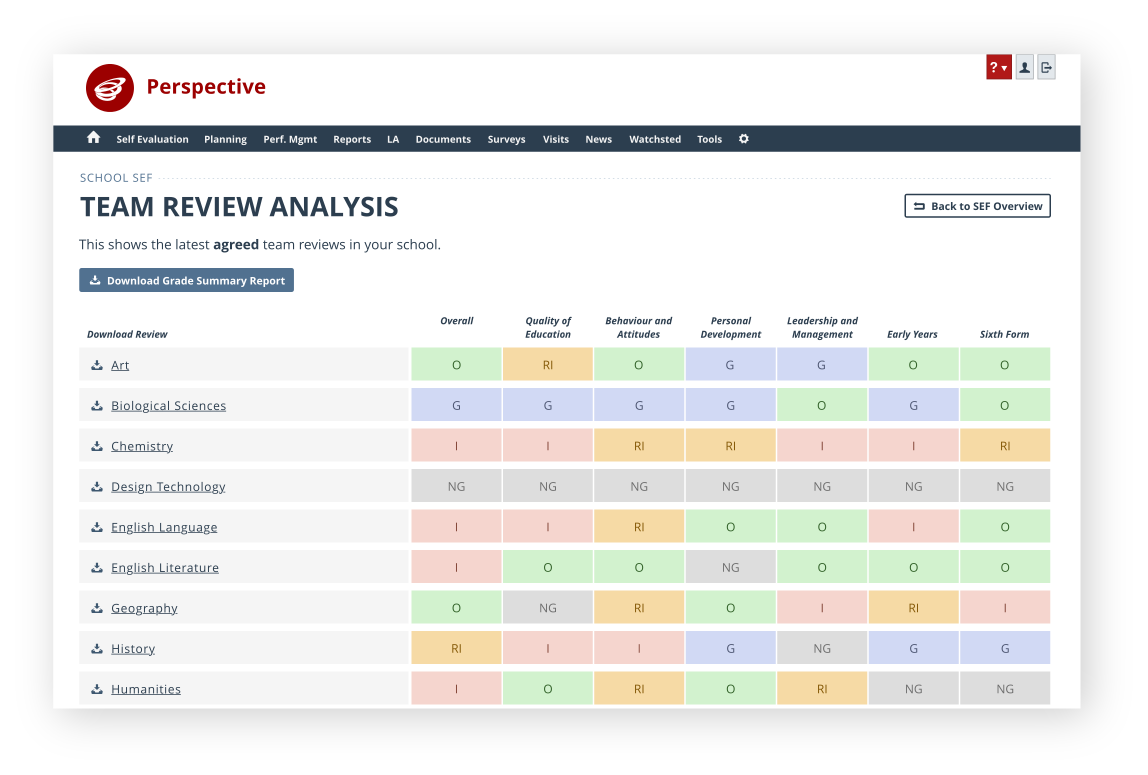 You'll get a quick overview of all teams and grades per judgement area, which is exportable as XLS and PDF (so you can cut down your prep time for those meetings and grab a brew instead while it saves and prints…)
---
WATCHSTED
Everyone's favourite tool has been updated to support the new EIF. Though not all areas are updated yet (we're working on it!) all the important stuff is ready to go.
Inspector Profiles, Word Cloud and Keyword Search all work for inspections under the new framework, meaning you can see old and new inspections alike. Fun, no?
Go search for your favourite inspector this instant and let us know what you think.
That's it for now.
Already a Perspective user?
Using Perspective Lite?
It's super easy to upgrade from Perspective Lite to Perspective.
Got 5 minutes to spare?
Any burning questions? Just give us bell or drop us an email.