Our Pendulum Actions speak louder than words!
You know how the saying goes, actions speak louder than words. Well, as promised in our webinars earlier this year with our brand new Actions module in Pendulum, actions really do speak louder than words.
Here's how we're bringing Actions to life in Pendulum…
A to-do list, for to-day
It can be frustrating to have various Actions in separate reports for different visits, having to look through each one before you start a visit. Our new Actions module will make your life a whole lot easier, keeping everything in one place – a bit like a to-do list.
There are two ways you can use Actions:
Carry on using them inside your visits and they will automatically appear inside the new Actions tab in the schools dashboard.
Create a standalone Action separate from a visit, but still visible against the school.
Once a visit that includes Actions has been finalised, you can continue to update and manage your Actions all in one place – Pendulum will always keep a snapshot of what was agreed in the visit report but moving forward you will be able to see ALL your Actions across ALL visits in one central location.
Enhanced Reports
All future visits will now include a NEW separate section called 'Previous Actions'. This will automatically include any Actions attached to previous visits but include any updates or changes you have made to them in the Actions tab. That way you always have a real-time picture of all previously agreed Actions to help you focus on preparing for your next visit.
P.S. This will only include Actions created since the Actions module was released and not actions created before that date.
Lights, camera, ACTION
It's super easy to create a new Action, give it a title, set a due date so you never miss a deadline again. You can assign Actions to another Pendulum user so they can track and manage their own to-do list and you can also capture Actions that need to be owned by someone outside of Pendulum too.
We're also giving you the option to highlight 'Key Actions' so you don't fall behind on something that has a due date later in the year but still needs regular attention right away e.g. increase attendance by 5% by the end of the academic year. It's no good starting work on this action in July – we want you to know this is important sooner rather than later.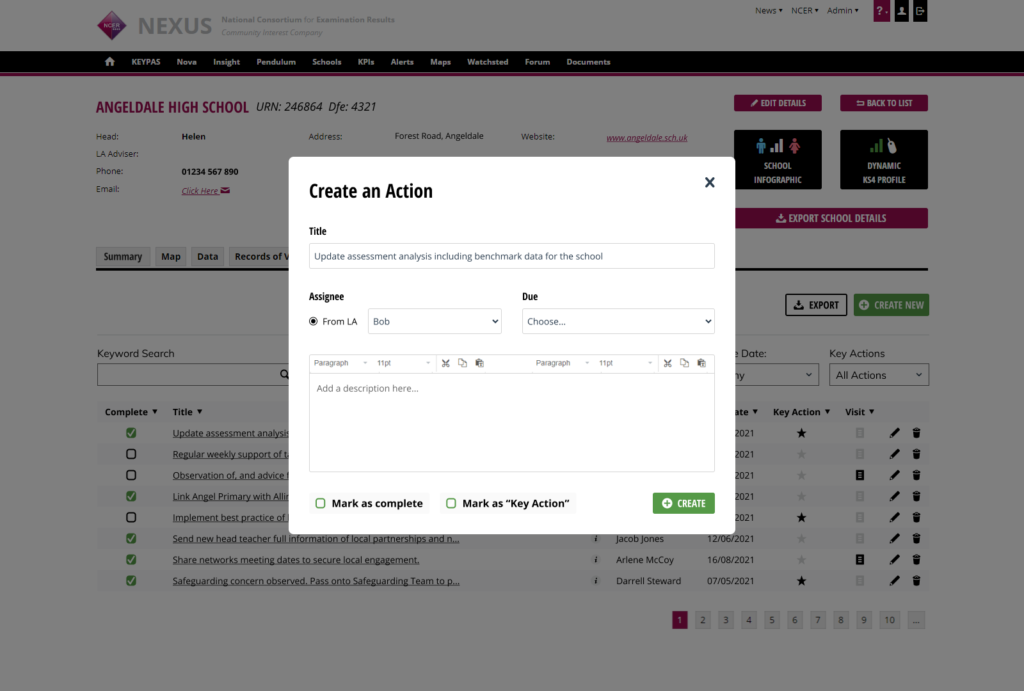 Looking for something specific?
We've made it super easy to find an Action with our handy Keyword Search. You can also use our handy filters to look at completed or incomplete Actions, sort by the due date or focus on your key Actions and lots more.
Is one of your colleagues off sick? Pendulum lets you see the status of their Actions so you can decide whether they need to be reassigned or provide you with the intelligence you need if you are getting in touch with the school.
Pssst, this functionality will only be available for new Visits and Actions going forward – a fresh start for this academic year.
Coming Soon
Soon we will be releasing the new Homepage and Analysis dashboards we have shown you earlier this year. As part of the next phase, we will also be bringing all your Actions together into the homepage so you can manage all your Actions across all your schools in one place.
There's nothing else you need to do differently to benefit from this, keep doing what you're doing by creating Visits and Actions, and we'll bring them to life for you in this beautiful new tab…